This Truck has been sold. This post features a 1974 Dodge Ramcharger 4x4, 440ci (7.2L) big block V8 mud truck for sale.
6 inch Skyjacker suspension lift kit with Skyjacker shocks and steering stabilizer. 3" Summit Racing body lift. Newer steering gearbox and billet u-jointed modified steering shaft with rag joint delete from Flaming River. 35 x 15 Nitto Mud Grappler radial tires on American Racing aluminum rims.
4:11 gears, front and rear with limited slip rear differential. Axles are part time 4x4 from newer mud truck with Warn hubs. NP208 transfer case from newer rig with adaptation to 727 Torqueflite. Transmission has extra capacity B&M aluminum pan and Kevlar bands along with TransGo shift kit. Hughes 2500 rpm stall converter and aluminum transmission cooler with electric fan installed. REVERSE HAS RECENTLY QUIT WORKING Chrome air cleaner lid, HEI conversion on distributor.
Newer front driveshaft and larger rear drive shaft with Spicer u-joints front and rear. Front bumper has winch mount. Thick flange large tube, full length headers with long glass packs, dual exhaust. Newer alternator, windshield wiper motor and bushings, electric fuel pump, water pump and high torque starter. It has a new (April 2019)Optima Red Top battery. The engine was completely rebuilt in the Spring of 2018. Machine work and long block assembly at D & L Automotive Machine Shop in Canyon, TX. The front seats are from a newer model Ford Ranger. Passes current Texas inspection and is highway legal. I have used as a daily driver here in town.
The body has significant rust damage around the wheel wells and also rust spots in some other areas. The Ramcharger will include several extra parts including driver and passenger side door and an extra rear hatch. I am the 5th owner. It was originally a Kansas Highway Department Supervisor's rig.
I do not have to sell but I don't have a shop in which to work on it or keep it in when the top is off and the all steel top is too much to handle for one person. Not interested in projects but I might consider full or partial trades for inboard boats, jeeps, older Mopar cars or something interesting, if value is right. $7,500.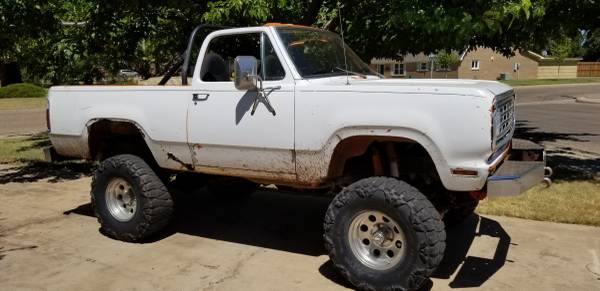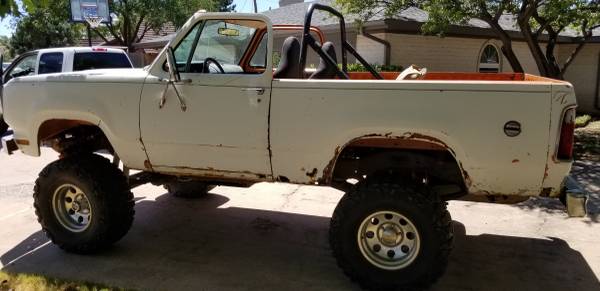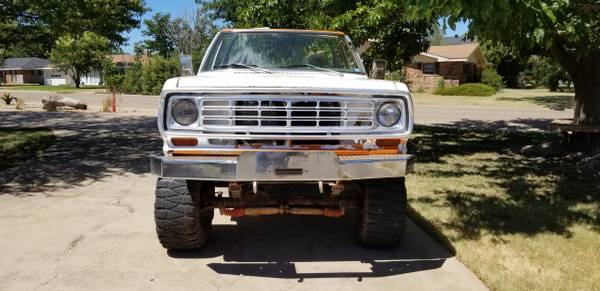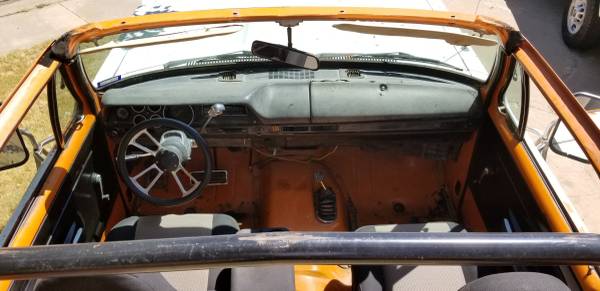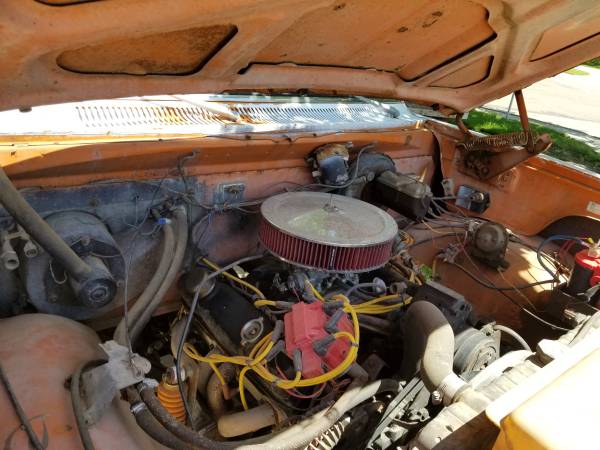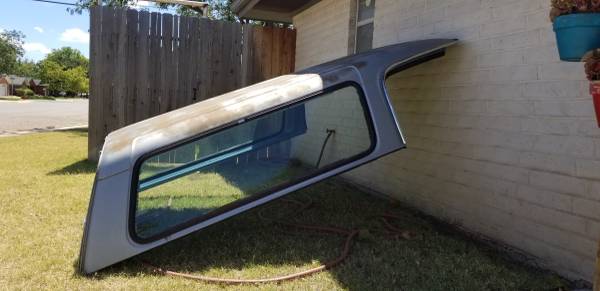 Mud Trucks.