Monster Truck for Sale.
I have a 2001 Chevy Silverado 2500HD LB7 Duramax diesel 6.6ft shortbed extended cab, LT trim, with the Allison 5-speed automatic and NP263XHD transfercase. It has been solid axle swapped with a 1-ton 79' Ford Dana 60 Kingpin front axle and has the AAM 11.5" 14-bolt full float rear end that both have 4.56 gears. It has 15" of total lift (13" lift 63" rear leaf springs with 2" blocks and 10" lift 47" front leaf springs plus 5" from the SAS brackets) and is sitting on 20x12 Fuel Hostages with 40/15.5R20 Toyo Open Country M/T's.
The LT trim has the full Infinity Kappa speaker system plus dual 10" MTX sub woofers, leather seats with a rear bench and front heated driver/passenger captain seats plus full center console with locking lid. The driver's seat has 10-way power adjust and 2x position memory. Power steering, power windows, tilt wheel, auto dimming rear view mirror that's OnStar capable, 4WD, heated rear window, tinted rear windows, heated side tow mirrors, etc.
This truck has the Banks big head wastegate, Banks ram-air intake, 4" exhaust, and Banks Six-Gun tuner with IQ dashboard which they claim takes it from 230HP/500Ft-Lbs to 350HP/800Ft-Lbs. Custom ORT front bumper with a 12,000lb Smittybilt winch, 2x 6" KC HiLites and 2x 9" 100W Hella's.
It has brand new front/rear drivelines and u-joints with less than 100mi on them. I replaced the rear transfercase half about 500mi ago as well as the rear pinion seal. Brake pads are all good with plenty of life left. All fluids and filters changed routinely (Oil/filter, transmission fluid/filter, transfercase fluid/filter, fuel filter, differential fluid, etc.). Tires rotated routinely.
I absolutely HATE to sell this thing, but I recently upgraded to a crew cab long bed, so sadly it must go.
Cons: It was daily driven for a year and definitely used as a truck, so it does have some small dents/scratches on both bed sides and the tailgate. I had intended to have the bed/tailgate repainted, but never got around to it. The leather on the drivers seat has some cracks and tears in a few spots, and again, I had intended to get some seat covers, but never got around to that either. The HID highbeams won't turn for some reason and I never could figure out why. The ballasts tested good, but I never got around to tracing the wires to check for a fault.
NO TRADES
Exterior mods • 79' Ford Dana 60 kingpin up front with 4.56 gears and Warn locking hubs • 14 bolt rear end with 4.56 gears • ORU (60012-B) solid axle conversion kit with dual front shock mounts • ORU (60330-A) crossover steering system • ORU trac bar with modified lower mount • ORU custom lower front shock mount plates • ORU 28" stainless steel front brake lines and relocated bracket mount • ORU bumpstops • ORU (600073-13) 63" long 13" lift rear leaf springs • Superlift 47" long 10" lift front leaf springs with Superlift 315 poly bushing kit • 2" blocks in the rear • SkyJacker 6° rear axle shims • ORU (612-B) Dana 60 front u-bolts • Custom 12" rear u-bolts built by Oregon Auto Spring Service Inc • 4x FOX 2.0 Performance Series Smooth Body IFP (980-24-659) shocks on the front • 2x FOX 2.0 Performance Series Smooth Body IFP (980-24-958) shocks on the rear • Modified BDS #55377 (94'-02' Dodge) dual steering stabilizer kit • 2x Rough Country steering stabilizers • RuffStuff #TK234 1-ton tie rod kit • Aftermarket reinforced aluminum transfer case rear half • BRNY transfer case pump rub prevention kit • PPE stainless transfer case brace • Modified Ford front driveline to adapt to the NP263XHD transfer case with 1310 u-joints by Six States • 20" x 12" -44ET 8 on 6.5" bolt pattern Fuel Hostage wheels • 40/15.5/20R Toyo Open Country MT's • Custom built "ORT" style front bumper powder coated texture black • 2x KC Apollo 55W spot beam lights with padded covers • 2x HELLA Rallye 4000 100W euro beam lights with stone covers and offroad covers • Smittybilt 97212 XRC-12 winch (12,000lb) • Fabtech traction bars with heim joint mod • Custom built "Nfab" style tube steps powder coated texture black • Torklift Superhitch C1204 17,000lb towing dual receiver • Custom 19" drop standard hitch • Receiver to hitch triangulated brace arms • Firestone 6" load leveling airbags with built in air compressor and in-cab controls/gauges • LEER canopy (color matched) • Custom double tube 13" long airbag brackets in the rear • 20% window tint on the rear 3x windows • Oversized mud flaps with custom brackets • Electric trailer brake unit • Wired for trailer charging • Rhinolined bedliner • Rough Country (#4299) rear inner fender liner kit • AM-Auto heated/adjustable towing mirrors with leveling mod • TunersDepot Sonar crystal black headlights • iPEXmotoring black turn signal housing lights • DDM tuning 35W 6000K HID low beams • DDM tuning 55W 6000K HID high beams • Daily running lights disable mod • Hi/Low headlight beam all-on mod • LED flood backup lights • Front/rear window rain guards • Blacked out tail lights and third brake light • Debadged tailgate • Custom "Banks Powered" door badges • Bedlinered front grill with stainless bolt accents • Color matched bowtie • Plasti-dipped side moldings • Welded/filled/shaved frame holes in every fender well and sprayed with undercoating
Power mods • Banks Power Six-Gun Tuner with IQ dashboard (6x tunes (stock, economy, tow, 3x power levels up to +140HP and +230Ft-Lbs) • Banks Power ram-air intake • Banks Power big head wastegate • Intake horn "mod" machined to 2.780" diameter with .125" blend radius • IAH (Intake Air Heater) delete with LED mod • AERO Turbine 4" stainless straight through polished muffler • AERO 6" polished stainless exhaust tip
Interior mods • Python 881XP 2-way Security system/remote start • Alpine CDA-7894 Stereo head unit • 2x Infinity Kappa 60.3cs 6-1/2" 2-way speaker system in front doors • 2x Infinity Kappa 60.3cs outboard passive crossovers in front doors • 2x Infinity Kappa 10.5t 1" C.M.M.D. dome tweeters in front doors • 2x Infinity Kappa 462.9cfp 4"x6" 2-way speakers in rear doors • 2x MTX Thunder6000 series 10" subs in an enclosure underneath the rear seat • MTX Thunder8302 amplifier • JL Audio JX360/2 amplifier • Midland 1001Z CB radio hidden in the dash and a 48" antenna whip • Custom CNC'd cassette player delete with 3D Chevy bowtie.
For more information about this Monster Truck for Sale Contact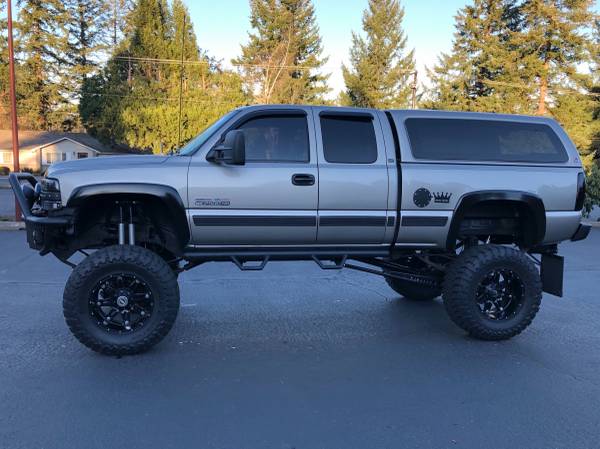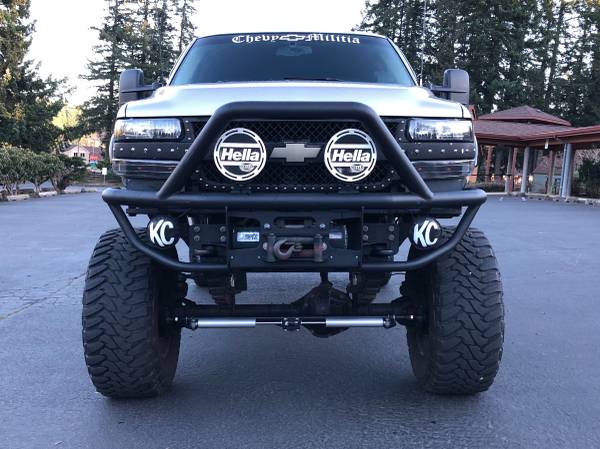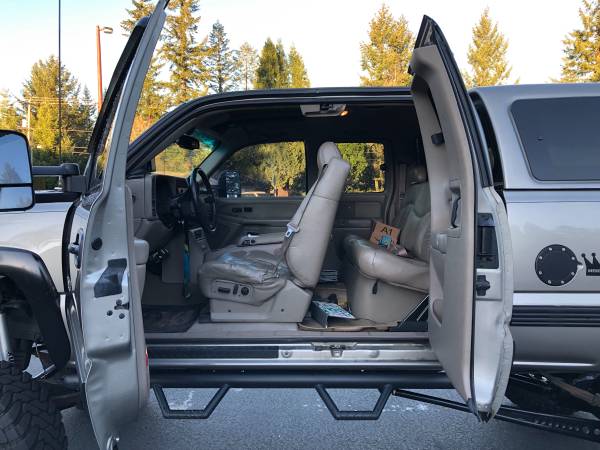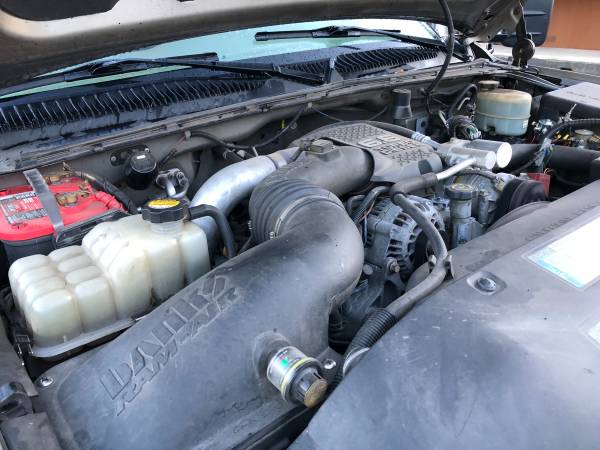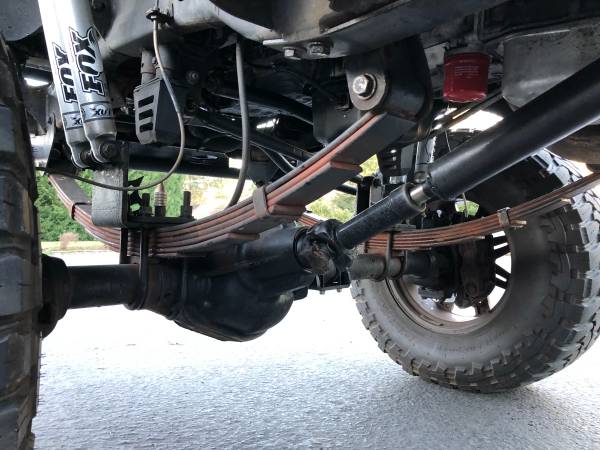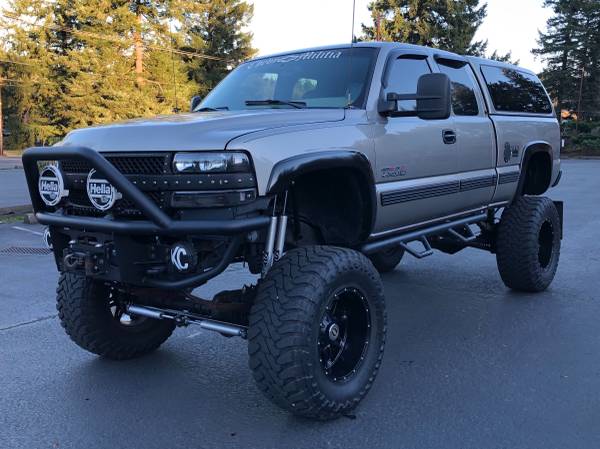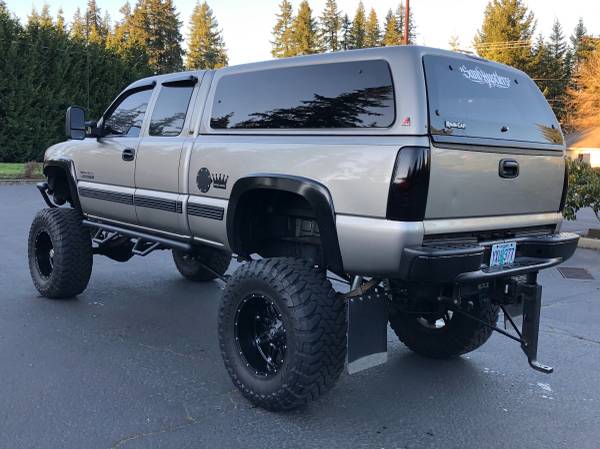 .