1996 Chevy Blazer 4X4 Monster Truck on 42s for Sale.
This Monster Truck has been Sold or removed by Owner.
I'm finally going to sell my Chevy Blazer, I have owned it for over 3 years now and have done a lot of work to it, I'll try and list everything I have done to it but I'm sure I will miss something, if you have any question just shoot me a text message and I'll answer what I can.
1996 2dr Chevy Blazer 4.3 4x4. I swapped the whole front end out and put the newer body style core support, head lights and grill. The whole body of the blazer has been Rhino lined in U-POL Raptor liner. Front and back wheels are vision soft 85 15x10 steel. Tires are 15x42R15 Super Swampers TSL tires brand new they only have 400 miles on them.
The front axle is a Dana 44 from a 1985 Jeep Grand Wagoneer. All of the following was installed brand new on the front axle only
4.88 gears and master kit
SAS kit "Sky off roads"
rotors and brakes
calipers
locking hubs
upper and lower ball joins
lug nuts 7/16-20
brake lines
axle perches 2.5x 3" axle
78/79 Ford F-150 pitman drop arm
Y link steering 1 ton GM
Custom made U bolts
Axle spindle seals for Dana 44
Suburban big brake master cylinder upgrade
Chevy Astro power steering gearbox (changes the direction of the steering shaft so the high steer would fit)
Shock hoops
8degree piñon angle shims
Gmc Jimmy from bumper
ProComp shocks
ProComp steering stabilizer It doesn't have a front drive shaft so one will need to be made for it if you want four wheel drive to work.
The rear axle is a Dana 44 out of a 2000 Isuzu Rodeo. All of the following was installed in the rear axle
Ford F-150 2000 Rear 56" 2.5 wide leaf springs
Shackles 3" lift
Dana 44 diff cover
Rear 4.88 gears and master kit
Rear axle perches 2.5wide x 2.75"
Rear lug nuts
U bolts
Leaf springs C20
5.5 lift blocks
ProComp shocks The rear drive shaft was custom made and has a 26 spline 1330 yoke and a Conversion u joint 1340 to S44/3R.
The 4.88 gears spin the tires as if they were still the stock size, has plenty of power. The motor was replace right after I bought it, it spun a bearing so I had a used one replaced in it, new motor has 104K miles, came out of a wrecked Colorado Springs Utility Blazer.
New thing I have added: ZR2 fender flares. Front push bar 2x LED lights. Rear glass hatch struts. Radiator core support 98+. Front door hinge pins both sides. GMC head lights and grill. Oil filter relocated. Cold Air Intake. Wilwood proportioning valve. 3/8 brake line and fittings. Roof rack awning rolls out and has legs on it. X4 vision soft 85 15x10 steel wheels. X4 15x42R15 super Swampers tsl. JVC CD player. 6.5 door/rear speakers. 4x6 dash speakers. Exhaust I sa flow master 40 series. Billet grill. Distributor/cap/rotor 1. Ngk iridium spark plugs. RED LEDs in the front wheel wells.
This Blazer is definitely not perfect and has a few odds and ends that need to be finished up (If you want it perfect that is).
I just don't drive it anymore, I got a new job that I have to commute to so it just sits around and I need to make some space for another project.
I've never driven faster than 60mph (scares the heck out of me) so I wouldn't recommend driving it on the interstate but that's just me, this thing it just way over the top huge stands 7.5 feet tall. I would only use it for in town driving and light off roading or tall water/mudding. Its so high in the air that it becomes top heavy really fast when doing anything off road, again that's just how I was with it you can drive it however you want at your own risk.
The lift was 18' inches and the tires added another 7" inches so over all its 25' inches taller than a stock Blazer.
I'm sure I'm forgetting something as there has been so much done to this Blazer in the last 3 years so if you have any questions or want to come take a look just shoot me a text message and we will get something set up.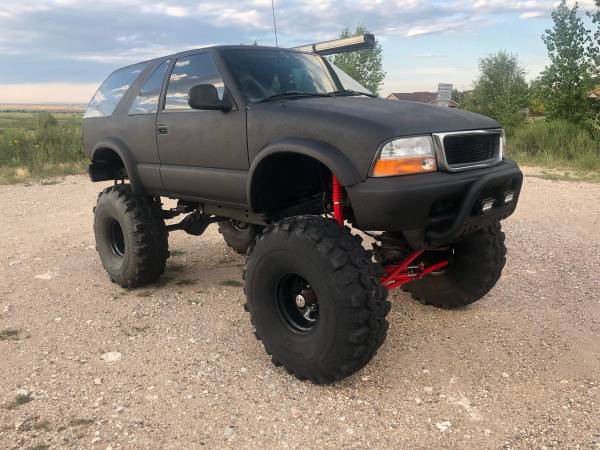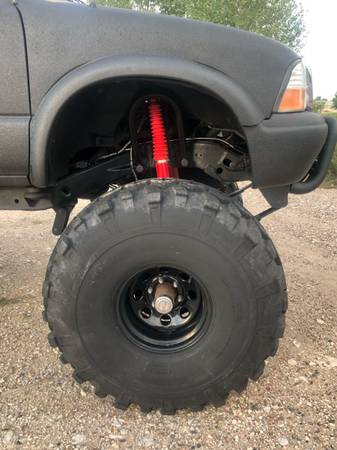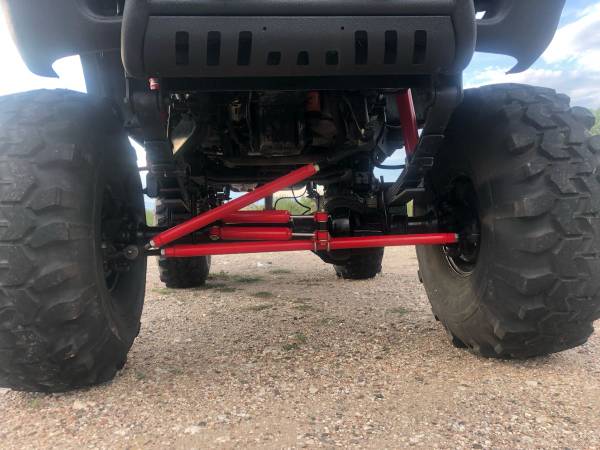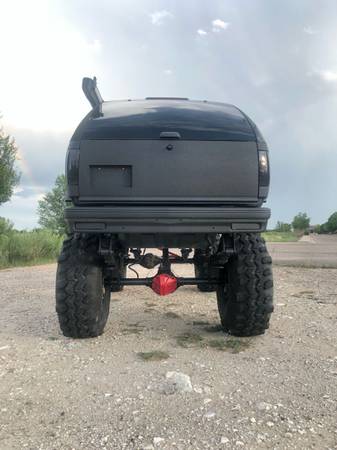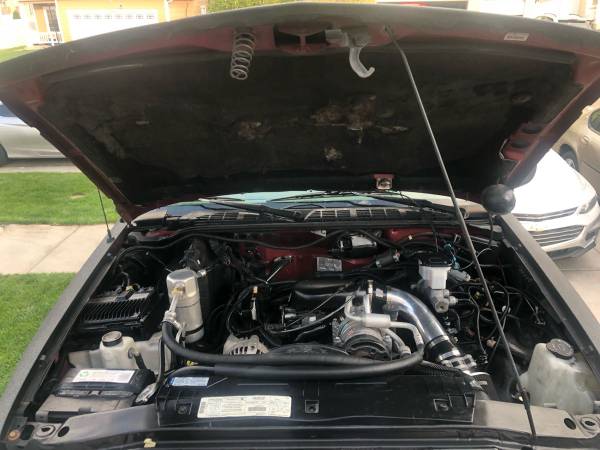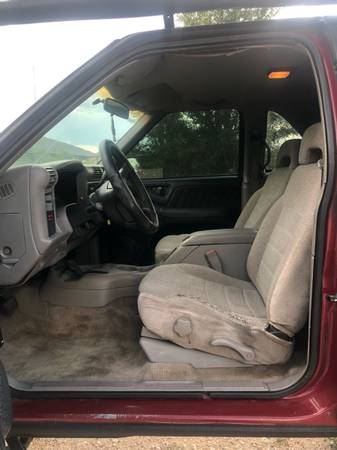 For more information about this Monster Truck for Sale.